Back To Menu
ESPECIALIDADES DE LA CASA
Pork Chop 32.
COWBOY ASADA
Charbroiled 16 oz. bone in rib eye steak or 12 oz prime frenched pork chop paired with a cheese enchilada. Served with Mexican rice, refried pinto beans, pico de gallo, guacamole, grilled scallions & a stuffed chile guero.
- gluten free, spicy
Have you tried this item? Pop it!
Help other diners know what to expect by sharing your experience.
Photo Gallery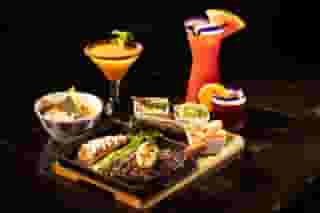 Back To Menu
ESPECIALIDADES DE LA CASA
Pork Chop 32.
COWBOY ASADA
Charbroiled 16 oz. bone in rib eye steak or 12 oz prime frenched pork chop paired with a cheese enchilada. Served with Mexican rice, refried pinto beans, pico de gallo, guacamole, grilled scallions & a stuffed chile guero.
- gluten free, spicy
  Back To Menu